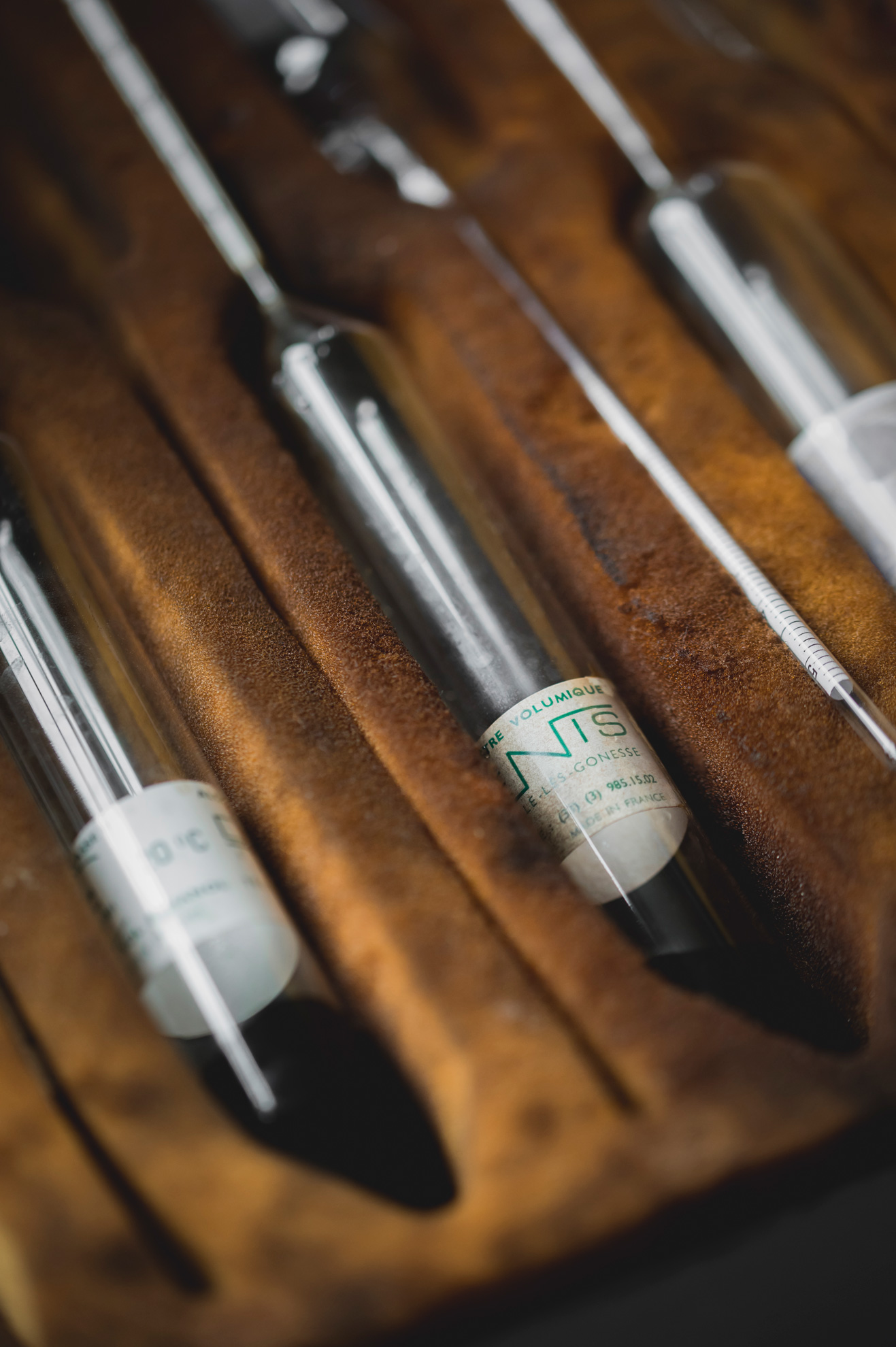 Atypical history
---
Maison Gimet draws its origins in 1929 with his creator, Mr. Gimet. Famous personnality, he was known for his own technical way with the Armagnacs: sweet wines cask ageings, very few actions on the eau-de-vie and deep expression of each vintage's typicity were his main tools.
Today in our house in the Bas-Armagnac, we strive to maintain the spirit of this Gers's personnality and offer high-end and exclusives Armagnacs, elaborated in their greatest purity. We know time is a luxury, which is why it is the main ingredients in the making of our eaux-de-vie.
Elaboration
---
01

---

Gimet instant

The history begins with our traditional Armagnac centenaries stills. During the distillation, our cellar master "listens" to them, adjusting gas pressure and wine flow. Some batches appear to him as exceptionals as he projects strong potential and ageing possibilities through three essential criterias: aromatic power, consitency and complexity. The batch is then isolated in new-oak barrels, each displaying a number : A Gimet vintage is born.

02

---

Prestigious eaux-de-vie

Being rare and precious, the eaux-de-vie are manipulated very carefully. They are first kept in new-oak barrels for a couple of years, during which the barrels are transfered to specific cellars with their own temperature and hygrometry. They are moved to these cellars depending on their aromatic evolution to regulate wood treatment. The Armagnacs are eventually transfered in barrels containing sweet wine where they stay for the rest of their ageing. These casks finish and complexify the eaux-de-vie until the bottling.
La gamme
Each bottle of Gimet Armagnac comes from a unique batch, prepared according to its own personality. This precision allows us to offer you exceptional Armagnacs and makes you live the magic moment felt in front of our stills
Each bottle is prepared with the utmost care. To avoid rushing the eau de vie, the bottle does not endure any reduction or cold filtration. It is in consequence at its naturel alcohol content, reason why it is called "brut de fut". The bottling is made by gravity, without rushing the Armagnac. The bottles are then numbered, signed, and ready for tasting.